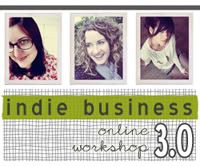 This time last year I was excited about taking Indie 2.0. But then life happened and I just couldn't commit any time to it. I tried to catch up much later but only realised how much I had missed out on. Cue disappointment...
Fast forward to this year and it's time for Indie 3.0! Thanks to a very generous and supportive boyfriend I am taking it and can't wait. I'm promising right now to be a way better student this year! It probably helps quite a lot that I'm actually in a position to put everything I learn straight into practice.
If you have a crafty business or thinking of starting one I can highly recommend this course, it looks amazing! You can find more details
here
!
Have a lovely day!